The Director General of Ukrainian Geological Survey took part in the leading European conference European Battery Raw Materials Conference 2022.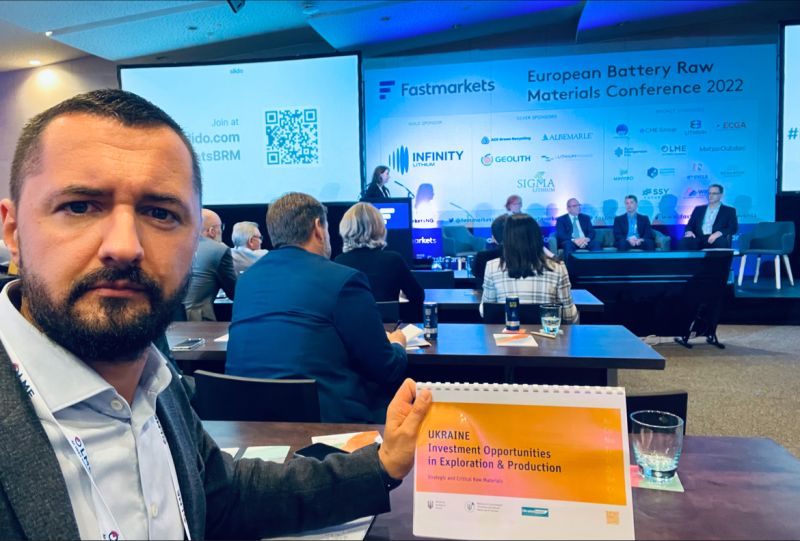 It's a little known fact that Ukraine is among the top 10 producing countries for titanium, iron ore, kaolin, manganese, zirconium and graphite, and also has proven reserves of metals associated with a low-carbon future used in innovative technology such as lithium, beryllium, rare earth elements, nickel and cobalt.
Ukraine is one of the world's five leading countries in terms of graphite reserves, which are about 19 million tons of ore with a natural graphite content of 5-8%.
There are six known fields, one of which currently produces annually 5,5 thousand tons of graphite concentrate, and was acquired in 2021 by the Australian public company Volt Resources.
«It is obvious, after this war, Ukraine desperately needs massive investment and the arrival of foreign capital in the technologically demanding upstream industry for the extraction and processing of critical minerals. The proper development of deposits of that metals gives Ukraine the opportunity to become a link in resilient supply chains of critical minerals with our strategic North Atlantic partners. It has to allow Ukraine to contribute to the integration of its economy into modern high-tech production cycles, whilst also supporting the development of an open autonomies of the EU», – said Roman Opimakh, the Director General of UGS.
Roman Opimakh's speech at the European Battery Raw Materials Conference 2022 – https://youtu.be/R0QmmquQwkE